« Archives
Holy Week: Spy Wednesday

Dear [First Name]
Wednesday in Holy Week is sometimes called Spy Wednesday - spy implying the complicity of Judas in plotting to betray Jesus.
This evening at St Mary's there will be an opportunity to think about Judas and what he represents in the story. Debbie Lewis will be offering an illustrated talk on "Meeting Judas in Art". Debbie's talk begins at 7.30 pm and is open to everyone.
One of the pictures which has really made me think in the last year is a painting of Mary embracing Judas's mother - take a look - on the artist Nicholas Myneer's website.
This is what St Mary's looked like last night - lots of people making a labyrinth pilgrimage.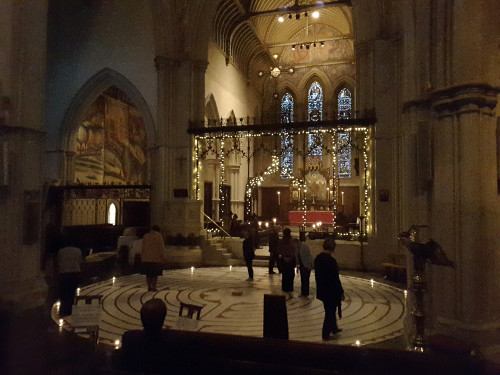 All good wishes, however you are spending Holy Week.
regards
KELVIN
-------------------
The Very Rev Kelvin Holdsworth
Provost, St Mary's Cathedral
Save
Save
Save
Save
---
The Cathedral Church of Saint Mary the Virgin, Glasgow (St Mary's Episcopal Cathedral)
is a charity registered with OSCR, number SC006225.
---
--
If you do not want to receive any more newsletters, [UNSUBSCRIBE]
To update your preferences and to unsubscribe visit [PREFERENCES]
Forward a Message to Someone [FORWARD]