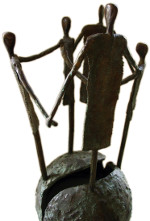 The Friends of St Mary's is a network for people who value and wish to support the ethos, congregation and building of this Cathedral but perhaps live far away, belong to another congregation or can only engage with St Mary's remotely. Belonging to the Friends of St Mary's will provide members with regular news and resources and will give the opportunity to belong to a community of people who help support the ethos of St Mary's Cathedral. The friends will be prayed for on a regular basis, and will be invited to an annual celebration.
Former members of the congregation are most welcome to keep in touch by becoming members of the Friends of St Mary's.
---
Subscribe
Please chose an amount below to subscribe to St Mary's using a credit or debit card or contact the Cathedral Office for other payment options. If you are a UK Tax Payer please choose the Gift Aid option to enable St Mary's to reclaim the tax on your subscription.
To subscribe using a different currency, please go to the other currencies page. Euro, US dollars and Canadian dollars currently available – other currencies can be set up on request.
---
Contact
For more details or to ask any questions, contact the cathedral using this form:
---