Week 4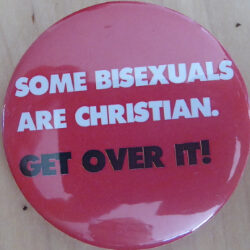 This badge is another in the series inspired by the famous Stonewall posters.
Many religious LGBT people will identify with the experience of being rejected by both sides — unwelcome in their religious community because of their sexuality, and equally unwelcome in the LGBT community because of their religion. This badge was a call to LGBT people and organisations, including Stonewall, to recognise and welcome the many people of faith who exist within the community.
The Scottish Episcopal Church has amongst it a number of confident bisexual role models.
In 2015, Stonewall produced their "Christian Role Models" guide, which can be read here: https://www.stonewall.org.uk/system/files/christian-role-models.pdf They have gone on to collaborate with people of diverse faiths to produce resources for LGBT people of faith.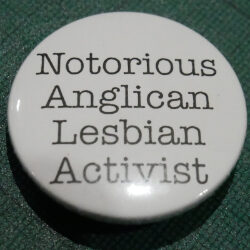 Jayne Ozanne is a lay member of the General Synod of the Church of England who has been campaigning for LGBT equality within the church since 2014. She has campaigned on many issues, including marriage equality and the banning of "conversion" or "reparative" therapy, and in 2017, she met with Pope Francis and discussed some of these issues with him. In the press coverage of this meeting, she was criticised by conservative members of the Church of England and was referred to by one journalist as a "Notorious Anglican Lesbian Activist". A phrase that was clearly intended by the conservative Christian press as an insult was claimed wholeheartedly by the Anglican lesbian activists of the Anglican Communion, – including Jayne herself – and was taken up as a badge of honour.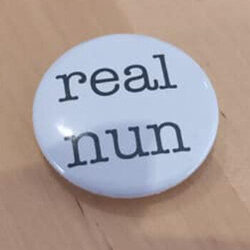 There are real priests at Pride events in Scotland, and there are real nuns too!
The first of these badges was made for Sister Helena Barrett, an associate priest at St Mary's Cathedral and a nun in the Order of St Benedict. When she was ordained in the Episcopal Church of the United States of America in 1977, Sister Helena was the first openly lesbian woman to enter the priesthood. She was present at the first Pride March in New York City in 1970, and she has spent much of her life campaigning for the inclusion and dignity of all people in the church.
Writing on the fortieth anniversary of her ordination, Integrity USA said of her: "The Reverend Dr Ellen Barrett is one of the pioneers of our faith. She is one of our icons in the struggle for equality. She is one of our elder statespersons who led the way so that those who followed would have an easier path to take."
Sister Helena can be seen in this video talking to the Provost about her life as a priest, a nun, and an activist. This was a Forum conversation which took place in the cathedral as part of Mardigla in 2019:
Week 3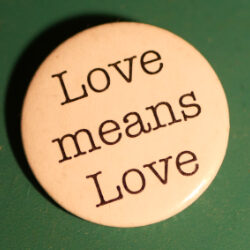 This badge celebrates a statement made by the Primus of the Scottish Episcopal Church, Bishop Mark Strange.
The statement can be read online here: https://www.scotland.anglican.org/primus-addresses-anglican-communion-primates-meeting-scottish-episcopal-churchs-decision-change-canon-marriage/
After the General Synod voted for marriage equality in 2017, the primates of the Anglican Communion sanctioned the Scottish Episcopal Church by excluding members of the church from representing the Anglican Communion ecumenically and from holding a small number of offices for three years. Bishop Mark responded to this by saying that he would do everything he could to rebuild relationships "but that will be done from the position our church has now reached in accordance with its synodical processes and in the belief that Love means Love."
Week 2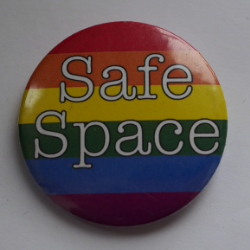 This badge was made by a former member of staff at St Mary's. As a counsellor, she was looking for a way of indicating to people that she was a safe person for Lesbian, Gay, Bisexual, Transgender, Intersex and Asexual people to discuss issues about their own lives safely without judgement or prejudice.
Therapy is one of the the areas of life which has changed in extraordinary ways in relation to issues of human sexuality within our own lifetimes. Therapy has sometimes been used to try to change someone's sexual orientation or identity (often called conversion therapy). Such practices are now completely discredited and many LGBT people now have much to thank theapists for.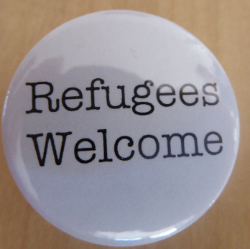 This badge is often seen in St Mary's. Members of the congregation wear them both in church and in their daily lives to indicate their support for those who are seeking refuge and asylum in this country. Some members of the congregation are involved in providing practical support for asylum seekers. Some are involved in campaigning for safe and secure housing for refugees and the clergy of the cathedral have repeatedly spoken out against the "hostile environment" policies of the government.
This badge is a reminder that some have to seek asylum because they come from countries where their LGBT identity puts their lives at risk. It is still illegal to be LGBT+ in about 70 countries in the world. In 12 countries the death penalty still exists for LGBT+ offences.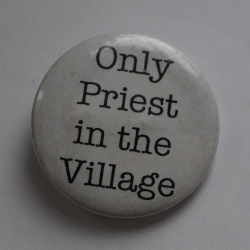 This badge is gloriously out of date. It is that badge that the Provost of St Mary's used to wear on his lapel, along with a rainbow ribbon whilst attending Pride events in Glasgow. As someone dressed in a black suit amongst a sea of rainbows, it was fairly obvious that he was the only ordained person attending such events wearing religious dress.
LGBT people who are Christian sometimes debate whether it is more difficult to come out as an LGBT person within the church or to come out as a Christian within the LGBT community. For many, it seems to be the latter.
These days the Provost is never the only person attending Pride in Glasgow wearing a clerical collar or religious dress. He now attends Pride along with colleagues from the Scottish Episcopal Church, ministers from other churches and members of religious orders.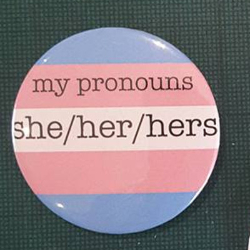 Speaking to people using the language in which they would describe themselves is as much about politeness as politics. Badges such as this are worn by people wishing to indicate which pronouns are appropriate for them. No-one is born with pronouns. Each of us has an identity that is formed throughout life.
The colours of this badge are the colours of the Trans Flag, which was created by an American trans woman, Monica Helms in 1999. The colours blue and pink are colours that have been traditionally assigned in some parts of the world to things associated with boys and girls respectively. The white it he centre of the flag is to represent those who are transitioning, intersex or who consider themselves as having an identity which isn't best understood as being either male or female.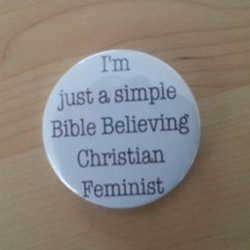 This badge is a reminder of how much those who identify as being LGBT have to be grateful for, from many in the feminist movement. We walk in the footsteps of great women.
Like most movements, feminism hasn't always been 100% positive towards LGBT people. However without feminism it is impossible to imaging the modern LGBT movements.
Feminism means advocating for women's rights on the ground of the equality of the sexes. The language of equality and equal rights that feminists have pioneered has been taken up by those arguing for LGBT rights on the grounf of the fundamental equality of all people.
Christian feminists and Christian LGBT advocates would point to the biblical idea of all people being created in the image and likeness of God as being a key supporting doctrine for what they believe in.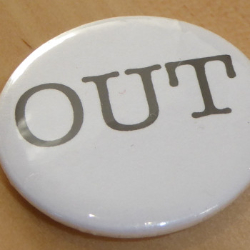 Coming out is often presumed to be some kind of once in a lifetime event. The reality for most LGBT people is that they have to come out again and again in life in situation after situation in which their identity is not the norm.
This includes coming out at school, college, to a doctor, to parents, to a spouse, from the pulpit, to a friend, to an enemy or rival, in a sports club, to a sibling and countless occasions when false assumptions have been made.
Many find the experience of coming out a liberating one in the end. However, it also has to be acknowledged that coming out can be a traumatic experience. No-one ever knows how another person will behave if one comes out to them. Sometimes people have lost their home, their children, their job as a result of coming out.
Ultimately, coming out is about living as a person of integrity and truth.
Sometimes LGBT people like to meet in LGBT spaces precisely because they want to meet in social spaces where coming out is completely unnecessary.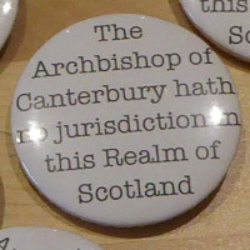 This badge is the perhaps the only badge from the St Mary's Badge Stall to have featured in an article in the Times newspaper.
When the Scottish Episcopal Church debated opening marriage to same-sex couples in 2017, many members of the General Synod were wearing this badge during the debate. This was spotted by a reporter who based part of his report of the synod on it.
It was widely expected that the Archbishop of Canterbury would in some way condemn the decision of the Scottish General Synod when it was made. In the end, this didn't happen though whether that was because of the reports of these badges in the national media is anyone's guess. The previous Archbishop of Canterbury had had much to say about a similar decision in the US based Episcopal Church.
The badge is based on the 37th article of the Thirty Nine Articles of Religion which are recognised by the Church of England. (Scottish Episcopal Priests do not have to affirm the Thirty Nine Articles) which states The Bishop of Rome hath no jurisdiction in this Realm of England.
Occasionally, people erroneously believe the Scottish Episcopal Church to be in some way directed by the decisions of the Church of England. The debate on marriage was just one of many ways in which this was obviously not the case.
Week 1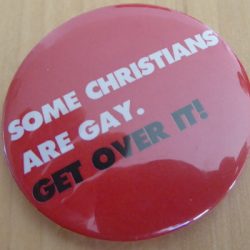 For LGBT History Month – February 2021, St Mary's is curating an online exhibition of LGBT badges which have at one time or another been on sale on our badge stall in church. The first one dates from 2016. It cheekily takes it's look and feel from the Stonewall posters of the time which asserted – "Some people are gay. Get over it!"
Check back regularly for more badges.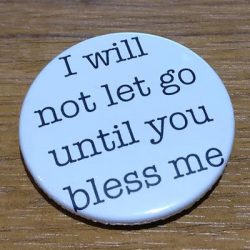 This badge was made in response to a speech in the General Synod of the Church of England by the Rev Simon Butler in February 2017. That speech can be read online here:
https://www.stmarysbattersea.org.uk/article/general-synod-and-human-sexuality/
The quote is from the 32nd chapter of the book of Genesis and in its original context is uttered by Jacob who is pictured wrestling with God. In the synod speech it was used to suggest that LGBT people remain part of the church despite the negative way that they have sometimes been treated. This badge represents a desire to be blessed rather than cursed – a key theme found in the bible.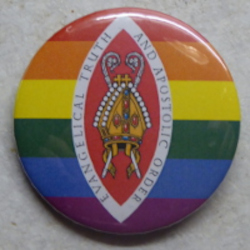 This badge dates from January 2016 and shows the logo of the Scottish Episcopal Church superimposed on a rainbow. These badges were worn by many attending the long series of meetings which led up to the Scottish Episcopal Church taking a decision to open the sacrament of marriage to same-sex couples.
The words on the badge are "Evangelical Truth and Apostolic Order" which is the motto of the Scottish Episcopal Church. In this context it is a helpful reminder that support for LGBT people within the Scottish Episcopal Church has come from congregations which identify as evangelical and also congregations which would have a more high church, catholic tradition. God has blessed all kind of churches with gay people and both the motto of the church and the rainbow flag speak of embracing diversity.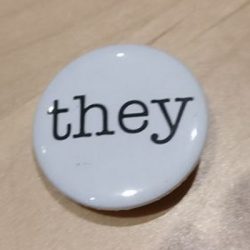 This badge was made in 2016 and is one of the badges that have been sold in St Mary's that have been bought by people for whom the pronouns he or she don't seem to fit.
The use of the "they" as a singular pronoun is often seen as a modern invention but it isn't anything of the kind. The Oxford English Dictionary records the first use of the singular "they" in 1375.
The badge is also a reminder that issues of gender are different in different languages. Some of the languages spoken by members of the congregation at St Mary's (notably including Igbo) don't use gendered pronouns at all.
This badge was made in 2016 in response to a comment made by the Archbishop of Canterbury at the Greenbelt festival. Whilst being interviewed by Kate Bottley he is reported to have said, "I am constantly consumed with horror at the way in which the Church has treated the gay community."
The crowd at Greenbelt erupted into applause at this notion and no doubt, Justin Welby went on his way rejoicing that he had connected with the Greenbelt audience.
However, it is the case that the things that Archbishops have said and done have often had a detrimental effect on the lives of LGBT people. This badge repurposes Justin Welby's sentiment to recognise that.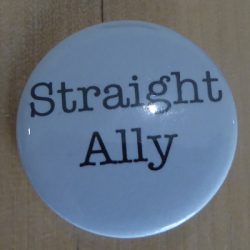 This badge has proved very popular on the St Mary's Badge Stall. It is a reminder that as LGBT people are inherently a minority in the population, the postive changes that have been brought about in the way LGBT people are treated could not have happened without straight allies.
Straight people have inflicted incredible harm upon LGBT people and also done incredibly good to LGBT people. Of course, there is no body of straight opinion, just as there is no one set of opinions which all LGBT people would subscribe to.
This badge has been proudly worn by many campaigning alongside LGBT people for change.
And LGBT people couldn't have achieved so much without them.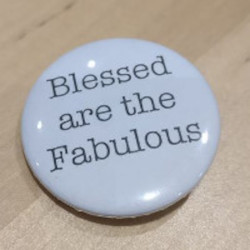 The slogan on this badge arrived in Glasgow with the Canon Missioner for the Diocese of Glasgow and Galloway, the Rev Canon Audrey O'Brien Stewart. She had been a member of groups of Episcopalians using same slogan at Pride events in the USA.
The slogan is a Beattitude and takes its form from the beattitudes that Jesus used in the Sermon on the Mount which can be found in the Bible in the Gospel of Matthew chapter 5.
Pride is a combination of protest and celebration. This badge is a reminder that LGBT people are uniquely blessed by God with gifts, skills and much that in turn blesses the world.
If you would like to provide feedback on this exhibition – please use this form.