The following articles have been contributed by members of the community at St Mary's. A new article is usually uploaded every Friday.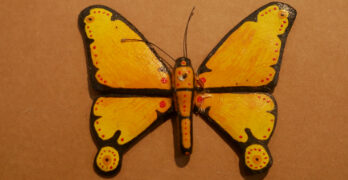 The following article relates to a small display of sculptures made from soap which is on one of the windowsills in St Mary's. It is written by Marion Bryans, who writes regularly to the person who carved them – a prisoner on Death Row.
I was asked to write something about the sculptures made from soap that are on display in the Cathedral just now. It is my pleasure to do this.
The soap sculptures were made by my friend Rodney Emil on Death Row in Nevada. He also had to make his own tools from what was available in the prison. Rodney is self-taught and makes things "to order". He made a garden pond with butterflies and flowers for a friend of mine who wanted to give it as a birthday present. It was exquisite. The butterflies were "flying" suspended in air.