The worship from St Mary's Cathedral for Sunday 7 February takes the form of a service that is being broadcast by the BBC Scotland television channel.
This will be available at 12 noon and will be available online shortly after broadcast.
The online address for this service is: https://www.bbc.co.uk/programmes/m000s75q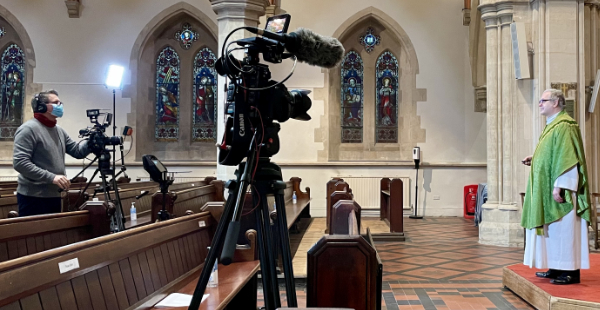 The Provost leads this service from the Cathedral and celebrates the Eucharist and preaches. The Vice Provost provides the bible readings and intercessions. Music comes from cathedral musicians using music from St Mary's that was recorded by the BBC in the cathedral for previous services.
The script for the service can be downloaded here:
Online Worship – 31 January 2021
(Note that the service has been edited by the BBC since it was recorded).
Details of Young Church this week are available further down this page.
Supporting the Cathedral
If you would like to make a financial contribution to enable the life of St Mary's Cathedral, please do so.
To give to St Mary's directly from your bank account, please set up payments to the Clydesdale Bank, sort code 82-20-00 account number 30185232, account name "Cathedral Church of St Mary the Virgin".
To set up a standing order, please fill in a Bank Standing Order and send it to your bank. If you are a UK tax payer, please also fill in a Gift Aid Declaration as it enables the Cathedral to claim back the tax that you have already paid on the money that you are giving.
You can give by PayPal directly through this website by going to the Paypal Giving Page.
If it is possible for you to do so, please use a form of payment directly to the Cathedral bank account in order to avoid payment fees on PayPal.
If you would like details of how to give by other methods, please contact the Cathedral Office to be put in touch with the Gift Aid Recorder, Alan McCulloch.
Thank you for your offering. If you usually put cash on the plate, please, if you can, find a way of giving electronically at this time to enable the ministry of the Cathedral to continue.
Young Church
This week, on 7 February, Young Church meets on Zoom from 10:30 to 11:00 am. Christine Walker leads the third of four sessions on making a samba band at home with everyday kitchen items. This week also features more LEGO building blocks—this time illustrating a story of healing from the Gospel. Any members of the congregation are welcome to join and share Zoom details with young people no matter where they are.
Young persons must be accompanied by an adult, who must remain online at all times. Join the meeting from a public room in the house (no bedrooms, please) and get ready to samba.
Young Church Zoom Dates and Details
7 February, 21 February
10:30 – 11:00 am
Meeting ID: 860 5486 4041
Passcode: 005922
Welcome card and feedback
If you are finding a way into this congregation and would like to make contact, please use the Welcome Card which can be found online here:
https://thecathedral.org.uk/welcome-card/
If you would like to contact the Provost and the Vice Provost to give feedback on this worship or for any other reason, please use the following form.

If you wish to join the cathedral electronic mailing list to receive futher details about the online worship please do so at this sign-up page:
http://phplist.thecathedral.org.uk/?p=subscribe&id=3
Please share this page and these resources widely on social media and in any other ways you can think of.