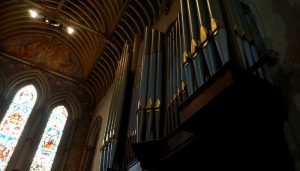 Every little bit helps. Please…we need your support and funding to make this opportunity happen, and leave a legacy to be proud of for our congregation, our Cathedral, and Glasgow.
Make a Donation
All donations – large and small – are gratefully received. You can make a donation to the appeal at any time with a cheque made payable to 'St Mary's Cathedral (Organ Appeal)'. Please click here to download and print the form which will enable you to GiftAid your donation and send the form and cheque to the address on the form.
You can already donate to the Organ Appeal in the following simple ways:
Put cash or a cheque into a St Mary's Gift Aid Envelope and mark the envelope "Organ Appeal", fill in your details, and place it in the Cathedral collection plate, or send it to the cathedral office. Please make cheques out to "St Mary's Cathedral" and write "Organ Appeal" on the back.
Make a payment by internet or telephone banking to the cathedral bank account, and mark it 'Organ Appeal':
Sort Code: 82-20-00
Account Number: 30185232
You can also donate via the St Mary's Gift Aid envelopes during a service – just clearly mark on it that it is a donation for the Organ Appeal and put it onto the collection plate.
Fundraising & sponsorship
You and your friends could raise money for the organ appeal by hosting an event, a recital, a sponsored sing, a coffee morning, a cheese and wine evening, a raffle, etc – the list is endless. Get in touch via organappeal@thecathedral.org.uk if you would like any help in organising or publicising your event.
If you work for an organisation that provides corporate sponsorship, or know of a suitable grant-making trust to approach, please put us forward for consideration, or tell us who would be a good person to contact. There are opportunities for corporate sponsors and trusts to receive considerable publicity as well as involvement in special events.  Please contact Frikki Walker, the Director of Music, or Michael Hitchman, who is heading up the Fund-raising team. Get in touch with us by email to organappeal@thecathedral.org.uk or by phone on 0141 339 6691.