The worship for 19 April 2020 can be found in several videos:
Three videos that form a service of Holy Communion
An anthem from the choir
Videos for members of the Young Church and their households
A Podcast for Easter from Dr Deborah Lewer
As access to the cathedral building is restricted, this week's worship takes the form of a house eucharist hosted by the Vice Provost from his own home, with the Very Rev Kelvin Holdsworth joining from his home. Other voices come from members of the congregation, some of whom are self-isolating at home. This Sunday's sermon is preached by the Rev Dr Ellen Barrett. Beth Routledge reads the Gospel, Pat Bennett leads the Intercessions, and organ solos are played by Steven McIntyre on the organ at Dunblane Cathedral. Music for the Eucharist comes from the Walker family (Magnus Walker, tenor and Frikki Walker, organ). Music at communion is 'O Filli et Filliae' sung by Morven Bremner, soprano. The postlude is Voluntary in G (VII) by William Goodwin.
Download a PDF transcript of the service here:
Online Worship – 19 April 2020 – 2 Easter
The Gathering
The Ministry of the Word
Offertory
If you would like to make a financial contribution to enable this ministry, please do so.
To give to St Mary's directly from your bank account, please set up payments to the Clydesdale Bank, sort code 82-20-00 account number 30185232 – account name "Cathedral Church of St Mary the Virgin".
To set up a standing order, please fill in a Bank Standing Order and send it to your bank. If you are a UK tax payer, please also fill in a Gift Aid Declaration as it enables the cathedral to claim back the tax that you have already paid on the money that you are giving.
You can give by paypal directly through this website by going to the Paypal Giving Page.
If it is possible for you to do so, please use a form of payment directly to the Cathedral bank account in order to avoid payment fees on Paypal.
If you would like details of how to give by other methods, please contact the cathedral office to be put in touch with the Gift Aid Recorder, Alan McCulloch.
Thank you for your offering. If you usually put cash on the plate, please, if you can, find a way of giving electronically at this time enable the ministry of the cathedral to continue.
The Communion
The Anthem
A recording of Prayer for Peace by Frikki Walker from the Choir of St Mary's Cathedral, Glasgow remembering that when Jesus appeared to his disciples, he said to them – "Peace be with you".
Young Church
The following videos have been prepared for members of the Young Church by Rosemary Hannah & Sophie Agrell, with a special stop-motion video by Zoe Shepard Reese. Closed captioning provided.

UPDATE: Looking for signs of hope and spring, a beautiful blue sky today and the buds are getting bigger and paler but no leaves yet!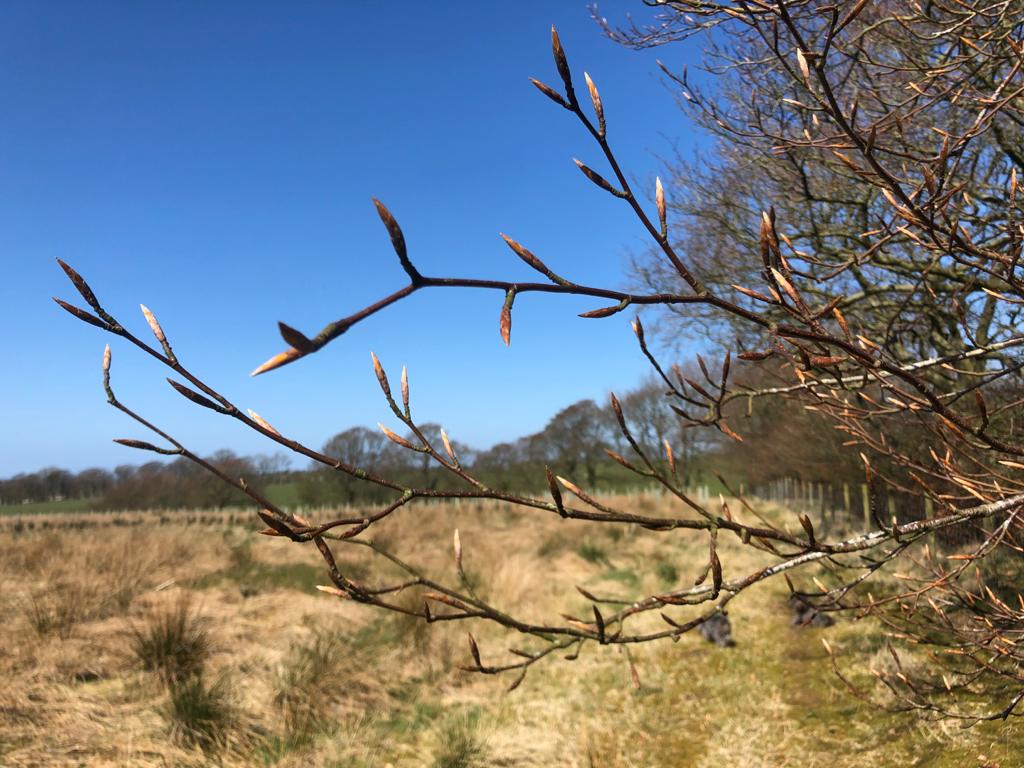 Podcast for Easter from Dr Deborah Lewer

In this third and final podcast of the series, Dr Deborah Lewer explores a work of the German expressionist sculptor Ernst Barlach, a piece entitled Das Wiedersehen (1926), which depicts an encounter between Thomas and the risen Jesus. Video produced in partnership with the Iona Community. Music: Huit Pièces Brèves, Op. 84, No. 5: Improvisation in C Sharp Minor by Gabriel Fauré (1845–1924); Catriona Mairi Mackenzie, piano
Download a transcript of the Podcast for Easter here.
Feedback form
If you would like to contact the Provost and the Vice Provost, please use the following form.

Please share this page and these resources widely on social media and in any other ways you can think of.