The following article relates to a small display of sculptures made from soap which is on one of the windowsills in St Mary's. It is written by Marion Bryans, who writes regularly to the person who carved them – a prisoner on Death Row.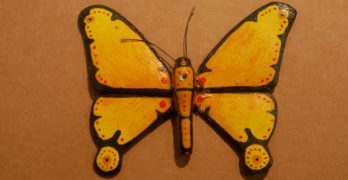 I was asked to write something about the sculptures made from soap that are on display in the Cathedral just now. It is my pleasure to do this.
The soap sculptures were made by my friend Rodney Emil on Death Row in Nevada. He also had to make his own tools from what was available in the prison. Rodney is self-taught and makes things "to order". He made a garden pond with butterflies and flowers for a friend of mine who wanted to give it as a birthday present. It was exquisite. The butterflies were "flying" suspended in air.
He also made a frog for my niece, who loves frogs. It was so life like and detailed, I thought it might "jump" at any moment.
Rodney says making the soap sculptures brings him peace. When making them he is fully focussed. Making a sculpture becomes his world at that moment. They take many hours to make and he has to make his own colours as well. Having spent several decades on Death Row, making the soap sculptures gives him deep pleasure, an outlet for his creativity, work of his hands that he can share with others and provides a source of income.
When our son, Daniel was granted Leave to Remain Rodney crafted an eagle soap sculpture to give him as a gift and celebration. I have added it to the display so that it can be more widely seen.
Recently in our letters, Rodney said he wanted to donate a gift of some soap sculptures to a church. This was a thank you to God in gratitude for all he had received. He hoped the people coming to church would enjoy them. The obvious choice of church to me was St Mary's which is open, inclusive and welcoming. I asked him if he was happy to display them in our church. He was delighted.
His praying hands sculpture is one of his favourites. The heart, lock, chain and key never cease to amaze me. The key actually fits the lock and can turn! I don't know how he manages to do that. God unlocking all our hearts.
These are but a few of what he has made and can be seen in the church display. I hope you will be delighted to see the sculptures. Appreciating his skill, detailed work over many hours and the considerable effort this gift has taken. Including buying the soap, careful packaging and postage – all generously given by Rodney as a blessing and gift to St Mary's Cathedral.
There are copies of Lifelines magazines and brochures beside the display. Please feel free to take away and read.
I first heard of Lifelines from a friend as we were making sandwiches for a soup kitchen. She spoke so matter of factly about the friend she wrote to on Death Row. She had met him through Lifelines, an organisation that supports and befriends prisoners on Death Row in USA. It's not a religious, political or campaigning organisation – only about offering friendship. Somehow that resonated and touched me.
I wrote to Lifelines and was given a penfriend. I was a bit nervous writing a letter to a complete stranger on Death Row. I'd never had a penfriend as a child/ teenager as I know some people do.
But it was refreshing to start from a clean slate, for both of us, to get to know one another. I've never looked back from that first letter all those years ago. Little did I know how much it would change my life and enrich it. I thought I would be helping out a guy, imprisoned and awaiting death, who needed a friend to write to.
But, it was two way – I learned so much from Mahir Ringo, my first friend. We wrote to each other over several years. What a deep and enduring friend he became. He converted to Islam while in prison and thought deeply about things. Mahir was in "the Hole" when we first wrote to each other. Complete segregation, no visitors, no books, no fresh air, never outside his cell. I sent him photos of Spring flowers, Scottish hillsides, my garden, as his only source of greenery and beauty of nature.
We lived in 2 very different worlds and yet forged a connection that still warms my heart today
His creativity knew no bounds. He played chess by shouting out his moves to another guy in a cell in the "Hole". The guy shouted back his moves. Mahir would write it down on a piece of paper. A game took several weeks.
I remember his excitement and anxiety when returning to the general prison population on Death Row, after years in the "Hole". The adjustments to be made being with people again. All the things that had changed in his absence. He was overflowing with ideas and projects to help prisoners and never stopped trying to make life better for others. For me, he became part of my family. It was hard when he was given the date of his execution. To know the exact date and time. Shock and realisation – the barbarity of the system.
Our last letters were precious. We still wrote of our inner lives, what gives life meaning. To the end he was instigating projects and ideas to make prisoners lives better and about being a better person. He particularly wanted me to keep on writing to guys on Death Row as he said it meant so much to receive a friendly letter. – It was literally a Lifeline.
He gave me permission to publish his letters and talk about him. I haven't done that yet, maybe one day. He died full of life and love. How many of us can say that?
If anyone is interested in writing to someone on Death Row in USA and wants to chat about it further you are welcome to contact me via the cathedral office.
We all need a friend. I can't imagine my life without the friends I am so fortunate to have beside me. Could you be a friend to someone who has no-one they can call a friend?